High quality hand made Bristol sheds come with free delivery, fitting and wood treatment. For all your home and garden storage needs. You cannot buy a better hand-made shed in Bristol! See the areas we cover
Local Customer Reviews
Joe Pitarella from Bristol
8 x 6 Apex Standard Garden Shed
1
2
3
4
5
good workmanship, good service and an excellent shed. 17/07/2012
Danny Lepage from Bristol
8x6 Pent B Tanalised Garden Shed
1
2
3
4
5
FANTASTIC SHED, PRICE & SERVICE. THANKS SO MUCH. 20/09/2011
Kristin Gault from Bristol
16x10 Apex Tanalised Garden Shed
1
2
3
4
5
Excellent service delivered in a matter of days, Cheers! 30/08/2006
Trotter from Bristol
7x4 Pent F Standard Garden Shed
1
2
3
4
5
EXCELLENT IN EVERY WAY ......WELL RECOMMENDED 24/08/2005
Steven Edmonson from Bristol
8x4 Apex Standard Garden Shed
1
2
3
4
5
Fantastic value and sevice! Definately recommend you to others! Thank you Steven 15/02/2005
Yolanda Castaneda from Bristol
10x5 Pent F Tanalised Garden Shed
1
2
3
4
5
excellent service and I am very pleased with the shed 05/08/2002
more reviews...
Buy a brand new wooden shed in Bristol from one of the UK's biggest and best shed retailers and manufacturers online. All of the sheds in Bristol by Beast Sheds are hand made by expert craftsmen with years of experience. We are the hard timber specialists, but are sheds don't just stand the test of time and protect your property in any weather. They also look great.
Garden Sheds in Bristol
Using strong, treated wood, our garden sheds in Bristol are protected against fungal attack and harsh weather. With a little maintenance they will last many years; much longer than sheds from another brand. Our garden sheds in Bristol can also be tanalised which makes the wood even stronger and provides a defensive shield against damp, rot and wood boring insects. Every aspect of your shed can be customised to your needs. Using the simple Beast Sheds online store, you can select a series of options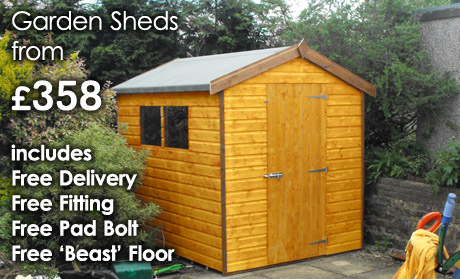 Wooden Sheds in Bristol
With bargain prices and free delivery there is no better way to get a wooden shed in Bristol then by visiting the Beast Sheds online store and creating a wooden shed to the dimensions and style that your require along with any additions that you'd like to make to the design of the shed. A wide variety of features and options are available to choose from. Thanks to the variety of possibilities we're confidence that no two Beast Sheds wooden sheds in Bristol are quite the same.