High quality hand made Cambridge sheds come with free delivery, fitting and wood treatment. For all your home and garden storage needs. You cannot buy a better hand-made shed in Cambridge! See the areas we cover
Local Customer Reviews
Virginia from Cambridge
11x9 HiPex C Beast Garden Shed
1
2
3
4
5
The shed is very sturdy, and excellent value. I thoroughly recommend. 05/10/2011
Brandon James from Cambridge
8x6 Apex Standard Garden Shed
1
2
3
4
5
excellent shed, great service, better than more expensive ones on other sites 25/12/2007
Calvin Christensen from Cambridge
12x8 HiPex C Beast Garden Shed
1
2
3
4
5
well recommened, thanks on a good job 14/10/2007
more reviews...
For the best sheds in Cambridge that you can purchase for the price, custom design your new shed here at the Beast Sheds online store. We offer unbeatable quality and expert craftsmanship, but that's not all. Our bespoke sheds in Cambridge are manufactured to your exact needs so that you get the best shed for your needs and your garden. Best of all, designing and ordering your shed could not be simpler.
Garden Sheds in Cambridge
When you buy garden sheds in Cambridge from the Beast Sheds online store, you select a series of straightforward options and simply tick the designs and dimensions that you need. It's easy and it's fast, and once you've placed your order, our expert craftsmen will set to work bringing your shed to life with the finest treated wood. As the hard timber specialists, we treat all of our garden sheds to withstand the elements and last for many years with a little maintenance. Our garden sheds are a cost effective option, and this is furthered by the fast, free delivery that every customer enjoys.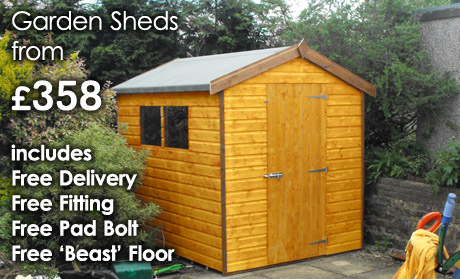 Wooden Sheds in Cambridge
From security sheds, and storage sheds, to summer houses and much more, no matter what you're looking for from a wooden shed in Cambridge, you'll find it here at the Beast Sheds online store. Our wooden sheds in Cambridge are treated to last for many seasons; regardless of fungi and harsh weather conditions. With a little loving, wooden sheds in Cambridge can look as good as they did the first summer for many years to come. Tanalised sheds are also available which offer even more stern defence against the forces of damp, rot and infestation.