High quality hand made Manchester sheds come with free delivery, fitting and wood treatment. For all your home and garden storage needs. You cannot buy a better hand-made shed in Manchester! See the areas we cover
Local Customer Reviews
Susan Kern from Manchester
6x4 Apex Tanalised Garden Shed
1
2
3
4
5
Thanks you,really lovely shed, very well made and assembled. Highly recommended! 09/01/2009
Keith Chandler from Manchester
8x6 Pent A Standard Garden Shed
1
2
3
4
5
Magnificent all round! V.high quality product. Superb aftersales service. 22/04/2008
Danielle Pulido from Manchester
14x6 Pent A Beast Garden Shed
1
2
3
4
5
Superb shed and great service very pleased and would recomend to all thanks 01/07/2006
Gary Parks from Manchester
8x8 Apex Standard Garden Shed
1
2
3
4
5
Excellent Quality and Service, Good Customer Service, Highly Recommended. Thanks! 14/06/2006
Mr Howard from Manchester
13x4 Pent A Beast Garden Shed
1
2
3
4
5
excellent quality shed, delivered and assembled, best price on the internet. 04/03/2006
Gary from Manchester
10x8 Apex Standard Garden Shed
1
2
3
4
5
Brilliant shed, well assembled, well made and nice to look at. I dont know how they make it for the price. Only thing is I wish I'd gone for the Tanalised shed to save me having to treat it my self! 06/10/2005
Derek from Manchester
6x4 Pent B Beast Garden Shed
1
2
3
4
5
I love my Elite shed! As I use my shed every day for work, it's worth paying a few quid more to get a shed that'll last and definately keep my tools safe! 02/11/2004
Sean Sharp from Manchester
12x5 HiPex C Tanalised Garden Shed
1
2
3
4
5
Very happy with my shed! 15/02/2001
Albert from Manchester
10x6 Pent B Standard Garden Shed
1
2
3
4
5
Great shed Looks the biz. Flooring same spec as walls! 21/01/2001
more reviews...
Beast Sheds cannot be beaten for heavy duty, handmade sheds in Manchester, at brilliantly low prices. Update your garden storage and transform the look of your garden with a brand new garden shed in Manchester by the makers of specialist hard timber sheds. Every shed we deliver to Manchester is hand made by an expert team of craftsmen. Delivery is fast and, best of all, it's free.
Garden Sheds in Manchester
Our extensive range of sheds is fully customisable the Beast Sheds online store provides a simple way to roam through a series of options and features to create your very own, tailor made garden shed in Manchester. Choose the size and style of garden shed that you need and also choose from a variety of extra features to create your ideal garden shed. With all of the options and customisations, no two garden sheds in Manchester by Beast Sheds are exactly the same.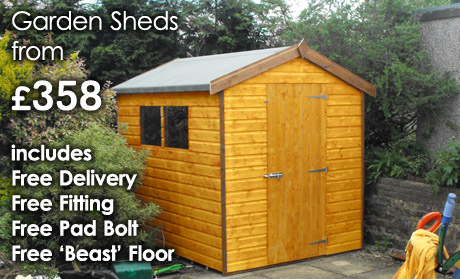 Wooden Sheds in Manchester
All of the wooden sheds that we deliver and install in Manchester can be tanalised to offer even greater protection against damp, rot and wood boring insects. These wooden sheds look brilliant, but they're also extremely secure; they're perfect for protecting your property, and they're protected from fungal attack and the effects of a harsh climate. For free delivery, great value and unbeatable quality, choose Beast Sheds for a garden shed in Manchester or anywhere in the rest of the UK.